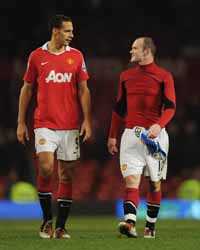 Bek Manchester United Rio Ferdinand mengaku puas dengan kesuksesan timnya menyingkirkan Chelsea di babak perempat-final berkat kemenangan 2-1 di leg kedua di Old Trafford, Rabu (13/4) dinihari, dan unggul agregat 3-1.

Javier Hernandez membuka skor untuk The Red Devils di babak pertama. Meski sempat disamakan Didier Drogba di babak kedua, Park Ji-sung langsung membawa United balik unggul tidak lebih dari semenit setelah gol The Blues itu.

Ferdinand memuji penampilan rekan-rekannya dalam pertandingan tersebut. Menurutnya, kKemenangan ini menjadi sebuah modal berharga untuk menghadapi Manchester City di semi-final Piala FA, akhir pekan ini.

"Ini merupakan sebuah hasil yang sangat luar biasa. Chelsea adalah tim sulit, tapi kami memang layak menang. Bikin lagi untuk Sabtu nanti. Terima kasih untuk dukungan Anda semua," demikian tulis Ferdinand di akun twitter pribadinya.

Ferdinand sempat mengalami sedikit masalah di babak pertama. Namun, ia akhirnya bisa menyelesaikan permainan hingga akhir laga. Padahal, Chris Smalling beberapa kali tampak melakukan pemanasan untuk siap-siap menggantikan posisi Rio.

Di babak semi-final, United kemungkinan besar akan bertemu Schalke karena wakil Jerman itu menang 5-2 atas Inter di leg pertama. Pertandingan leg kedua baru akan berlangsung pada Kamis (14/3) dinihari WIB.