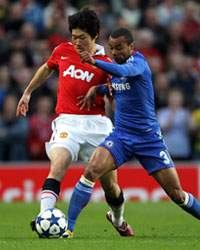 Kiper Manchester United Edwin van der Sar memuji penampilan gemilang gelandang asal Korea Selatan Park Ji-sung saat The Red Devils menang 2-1 di Old Trafford, Rabu (13/4) dinihari WIB, dan dipastikan lolos ke semi-final Liga Champions berkat keunggulan agregat 3-1.

Ji-sung mencetak gol penentu kemenangan United pada menit ke-77, hanya selang beberapa detik setelah Didier Drogba mampu menyamakan kedudukan untuk The Blues. Gol pertama United lahir melalui kaki Javier Hernandez di babak pertama.

Ji-sung memang tampil spartan sepanjang pertandingan, dan ia mampu berada di berbagai tempat. Gol yang dicetaknya memang berada dalam waktu yang sangat tepat.

"Ji-sung sungguh luar biasa," puji van der Sar usai pertandingan.

"Ia tampil brilian. Ia ada di mana-mana, melakukan tekel di depan dan langsung tiba-tiba ada di belakang dan kemudian memberikan passing yang luar biasa."

Van der Sar mengakui lawan yang akan dihadapi pada babak semi-final sama beratnya, baik Schalke maupun Inter. Ia berharap timnya bisa mengatasi lawan nanti dengan bagus.

"Pertandingan nanti akan sulit. Entah kami melawan Schalke ataupun Inter, yang pasti lawan akan memberikan kejutan. Kami baru saja menang atas Chelsea, tapi pertandingan besar akan datang berikutnya."