Benarkah bisa mengubah USB memory jadi RAM module ? Antara percaya dengan gakkan ?
Tapi kenyataanya bisa. Untuk menyulapnya kita membutuhkan software yang berlabel EBoostr.
Tetapi aplikasi ini hanya bisa berjalan di platform Windows XP. Dan belum bisa Berjalan di Windows Vista.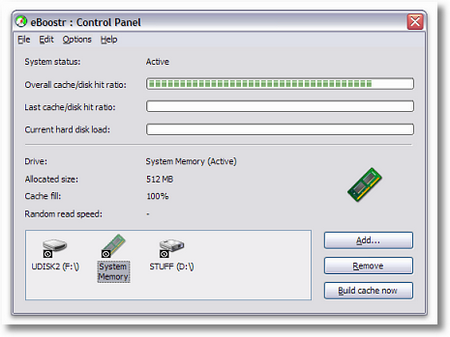 eBoostr merupakan solusi alternativ yang mirip dengan Vista's ReadyBoost dan SuperFetch dan hanya tersedia untuk Windows XP.
eBoostr™ mampu menaikan kecepatan dan respon dari berbagai aplikasi hanya dengan menggunakan Flash Disk yang berperan sebagai
penyedia RAM yang kosong ataupun cache memory pada PC. Jadi kita bisa memanfaatkan aplikasi ini untuk bekerja dengan aplikasi yang
cukup berat memerlukan sumberdaya memori PC anda. Dengan penggunaan eBoostr™ anda tidak harus upgrade hardware komputer anda!
Berikut keunggulan dari Aplikasi eBoostr™ dikutip Situsnya.
*
Memory caching (if you have plenty of RAM installed);
*
Exclude list (the most requested feature);
*
Power saving mode;
*
More than 4GB cache file size (on NTFS file system only);
*
One flash drive use on different computers;
*
Unlimited number of files in cache;
*
Build cache process improvement (including initial statistics used from XP prefetch information);
*
Load balancing mechanism improvements;
*
And many small fixes and enhancements;
*
And finally 16 new languages added: Portuguese, Ukrainian, Finnish, Czech, Danish, Hungarian,
Bulgarian, Polish, Korean, Swedish, Sinhalese, Lithuanian, Arabic, Belarusian, Japanese and Thai.
Informasi Lebih Lanjut silahkan kunjungi situs
eboostr
Untuk yang mau langsung Download Klik
EBoostr.PRO.v2.0.417